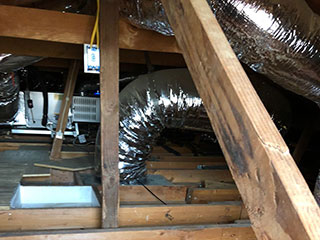 There's no reason to risk mold or rodents giving you a lot of grief when we can get your crawl space cleaned and protected in no time! Look below to see how we can make things much safer.
Prevent Mold From Growing
Mold is one of the most harmful substances to both your home itself, as well as anyone inside it. It eats away at wood and other materials of your house, and its spores can cause a lot of health troubles. One of the places it may be spreading without your knowledge is in the crawl space. It's cool and dark, making it the perfect spot for it to grow if any moisture gets in. Make sure it doesn't with our prevention services! We'll carefully inspect your crawl space for any signs that moisture is entering and what the cause is so we can put a stop to it right away.
Get Rodents Removed Safely
To any rodents looking for someplace to live, your crawl space looks like a great spot thanks to being inside out of the elements, but secluded from any actual people. It also has insulation to use as bedding, and wood to gnaw on! Of course, that's the last thing anyone wants, but poison can harm more than just the rats. It can hurt pets, and even humans if too much of it is around. Instead, let us take care of it! We simply trap and remove the rodents. No inhumane killing, just careful relocation.
We Can Clean Up Afterward
Simply removing the rodents doesn't take care of everything, however, as they leave a mess behind. If ignored, their waste and otherwise can draw in more pests like insects or animals, which starts the issue up all over again. Our experts use top-quality tools to get rid of all the debris, waste, and otherwise that they left behind to get your crawl space clear.
Give Our Team A Call
It's time to ensure that your crawl space is clean and safe for your home by contacting Attic Cleaning Orange.