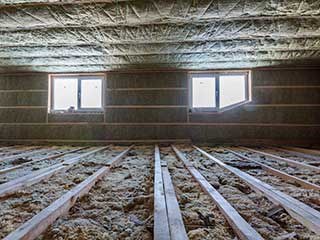 How important is it for you to leave a good impression on people you meet at different points in life? What about people you get in contact with at your business? Impressions, in general, and first impressions specifically, are a big factor for business success, whether it's your guests, clientele, potential investors, and even the health department's perception of your business. Now, one thing is certain – there are a lot, and we mean a lot, of factors that influence first impressions, but if your attic insulation is not intact, meaning it allows problems such as wetness, heat transfer, mold or bacteria to occur and foster – nobody is going to be happy about it.
Bad impression on possible investors or financers
Potential investors, business partners, bank representatives, or other types of financers that have to conduct some sort of business with you, won't be pleased with an unclean, unhealthy and unsafe business, which will actually be translated into an unsafe opportunity. Sure, it doesn't always mean you'll lose that certain business opportunity, but it will make it harder to receive attractive offers. Fact is, if it costs you one coveted business opportunity – the damage is already done.
If you to receive the best offer you can get, you have to allow your business to leave the best impression it possibly can, including taking care of professional commercial attic insulation.
Bad impression on the health department
Leaving a bad impression on health department's inspectors regarding the cleanliness, health conditions or safety of your business, can cause you serious problems. An unhealthy restaurant, store, factory, and the like, that suffers from bacteria and mold issues, might lead the health department's representatives to stop the inspection at once and even close your place for business – leaving you with a whole lot of new problems.
Make sure everybody gets a great impression of your business
Problems caused by unsealed attics can be easily solved. All you have to do is call us at Attic Cleaning Orange, and we will provide you with commercial attic insulation services, to make sure your attic won't cause your business any troubles. Neglecting your attic is neglecting your business and its potential to grow. Call our professionals and treat it like you should today!