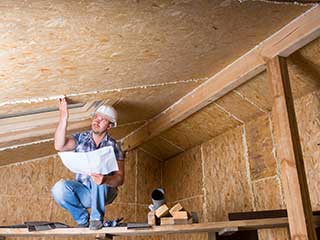 The attic is the least frequented part of our house, due to its location. But still, every now and then it requires our attention and even hiring a professional service provider, especially in those times when the required service relates to the insulation of the area. At Attic Cleaning Orange, you'll find just the services you need, in order to ensure your property is properly insulated. What are the services we offer and when can they come in handy? The answers are as follows.
When can Our Services Help and How?
There are different situations in which we can help, here are a few examples:
• Should your attic insulation require replacing, we will ensure the removal of the old material and install the new one perfectly. We will make sure it is as efficient as possible and last as long as possible.
• If damaged insulation cause wetness and mold at your attic, we can clean it up and make sure the area is safe once again.
• Moving into a new house? Give us a call to install new insulation to make sure your house is sealed and safe for years to come.
• Right before the holiday season or between seasons, is a great time to decontaminate the attic to keep yourself and your family safe and healthy.
The Best Team in Town
Our insulation services are varied in order to ensure each customer gets the best solution to their situation and specific circumstances. The services and solutions are delivered and carried out by professionals only, who are proficient, eager to help, and have that special know-how that comes with years of experience. They will thoroughly seal every inch of your attic, making it virtually impossible for rodents, wind, rain, humidity and dirt to come in. As part of our customer service, our team will inform you about the best treatment and will then execute it perfectly to your full (and lasting) satisfaction.
Best Prices in Town
We believe that good customer service entails more than kindness and professionalism, which are undoubtedly important, but that it also relies on fair prices. That's why our company has a competitive pricing policy, so our services will be equally available for all our customers.
In any event you need, or suspect you need professional attic insulation services – just give us a call!
We do so much more!
Cleaning & Decontamination
Crawl Space Waterproofing